Love Queen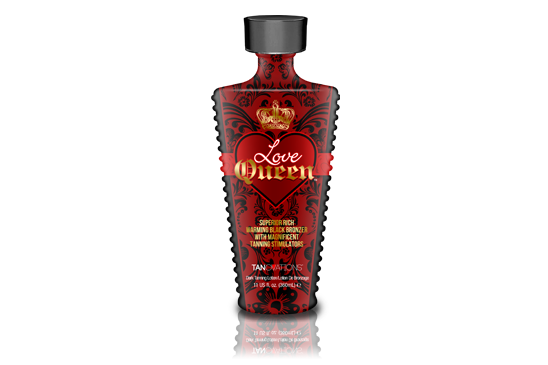 Tabs
Benefits

Royal dark DHA bronzers coupled with warming stimulants provide instant and delayed bronzing results.

Cucumber & Aloe

- Counteract red tones from blush factor to provide instant, bronzed results and quench dry skin.

MelanoBronze™ & Melactiva™

- Stimulates melanin activity to allow for longer lasting, darker tanning results.

Advanced Matrixyl Synthe 6™

- Tightens and tones the skin while helping to fight the formation of wrinkles.

Hemp seed oil

- Adds superior hydration to the skin.
Description
Superior Rich Warming Black Bronzer with Magnificent Tanning Stimulators.
Mirror mirror on the wall, who's the fiercest one of all? If you seek royal darkness to conquer the ball... And, with other products you have hit a tanning wall.. Allow Love Queen™ to lavish you with a warm flush of color, once and for all! Love Queen™ by Tanovations™ features a double dose of melanin stimulants with MelanoBronze™ and Melactiva™ to help you reach the top of the tanning castle. Our skin-soothing cucumber and aloe vera blend keeps skin poised, perfect and ready for your royal love affair.
Product Specs
Fragrance

- Passion Fruit & Sultry Lily

Action

- Tan Enhancer, Bronzer, Warming

Sizes

- 11 US fl. oz. (325 mL) / 0.5 fl. oz. (15 mL)